Some of the greatest stories ever told bring together the most unlikely of companions. For example, Woody and Buzz Lightyear, the Lone Ranger and Tonto, Shrek and Donkey all saved the day by accepting each others' differences and strengths. The same can be said for the mashup of characters Pals Socks brings together in its line of mismatched socks.
Kindness, acceptance, and empathy are the key ingredients found in Pals Socks. Though its first collection of mismatched socks and mittens put enemy against enemy, the budding company soon realized that life is much more rewarding when two opposites come together. Now, cats footsie with dogs, dragons are in step with unicorns, and the early bird gets the worm – as a friend and not a meal.

For this October, Pals Socks has introduced a limited edition werewolf and zombie pairing. You see, despite their differences, these two characters actually have quite a bit in common. Both get hungry at night, have inspired movies, novels, and TV shows, and can be a bit misunderstood. Pals Socks believes we all can be friends, even when it comes to these two hooligans. Halloween has never been more harmonious!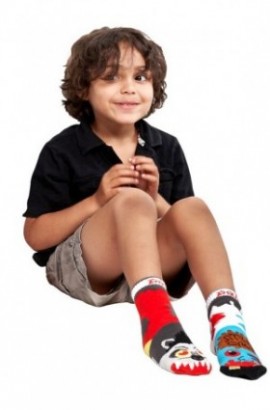 When a child reaches out to a classmate who may seem different than he or she, societal stereotypes and prejudices wither. Pals Socks is helping bridge the gap between "us" and "them" through something we all have in common – socks!