Words you never thought you'd tell your kids, "Go ahead, draw on the walls!" But with custom kids wallpaper, what was once a parent's nightmare has become a creative outlet for budding artists and decorators. 
When Surya and Dave Pinto were expecting their first child, they consumed themselves with literature on infant development. Of the vast array of information, one intriguing fact connected with them on both a parenting and design level. Infants are nearsighted at first and can only see clearly at a distance of 12-15 inches. Within that one foot range, his or her parents' faces as well as bold, black and white images are the most engaging. (We imagine these early moments for infants are like a gripping film noir starring mom and dad.)
Thus Wee Gallery was born. As a graphic designer, Surya began drawing large repetitive patterned animal prints in high-conrasting black and white in order to stimulate her newborn son's visual and cognitive development. Dave, as a teacher, also recognized the educational benefits of the animal designs. As an infant grows into a toddler, he or she can point to and recognize the elephant or sheep. Talk about putting two and two together.
To help illustrate an infant's image recognition process, Wee Gallery has created a "What Babies See" tab on its site. It animates the visually stimulating, high-contrast images infants see.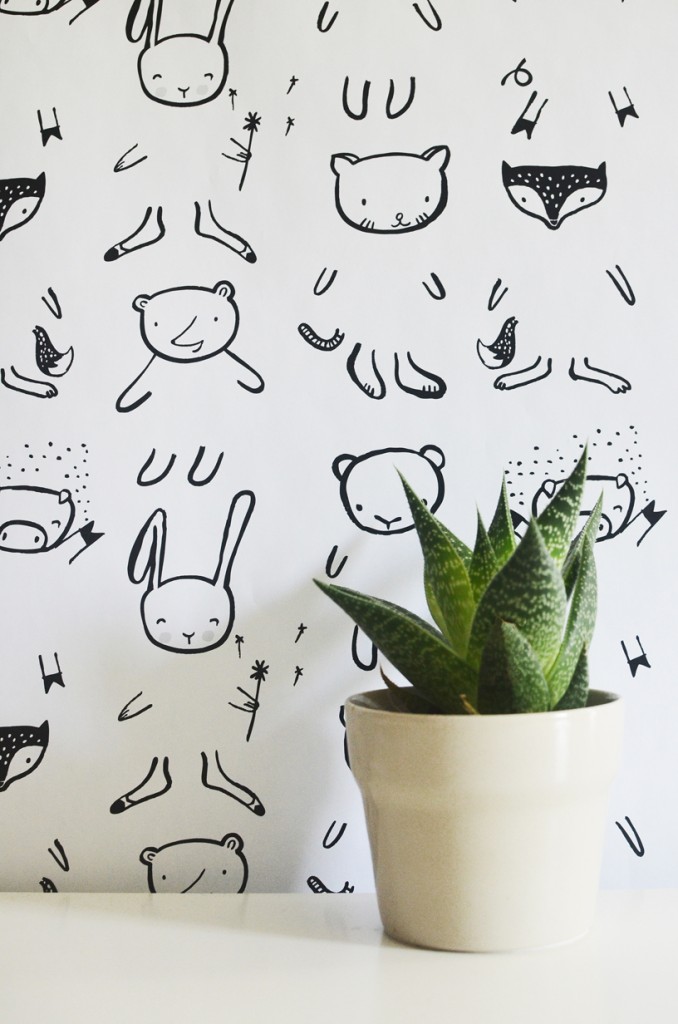 Wee Gallery collaborated with WallCandy to create fanciful and bold wallpapers that require no glue or primer. All you have to do is soak in water then smooth onto your walls to dry. Wee Gallery's wallpaper and wall decals come off without a trace. These are ideal if you live in a rented space or just like to change up your children's bedrooms and playrooms. The Dress Me wallpaper allows you and your little ones to also turn your walls into one big coloring book! You heard us right. Draw on your walls!
Walls don't get all the fun, however. Wee Gallery also makes awesome temporary tattoos, crib mobiles, ceramic cups, nesting dolls, and much, much more.
Everything about Wee Gallery is eco-friendly and biodegradable – from the recycled card stock and soy inks to the Polypropylene, not PVC, used for the wall graphics. Additionally, the Wee Gallery soft books are made by hand with 100% cotton.
Time to fill in the blanks! Draw in a fluffy neon orange tutu for the little bunny or make the happy pig tickled pink. Wee Gallery's wallpaper and decals will watch over your little ones from infancy to kiddo-dom.